America has its Drudge Report (www.drudgenews.com); Australia, its Zeitgeist Gazette (www.zeitgaz.com.au); Indonesia, its Tempo Interaktif (www.temponews.com) and Malaysia, its Malaysiakini (www.malaysiakini.com). All are self-defined as low-budget alternative websites. All claim to delve into issues ignored by mainstream media. They're mainly run by journalists disillusioned with mainstream media culture, contents and constraints. In reconstructing a counter media culture, they're turning the tables on their mainstream colleagues by becoming media critics themselves. In their open slather against the establishment, they create the impression that the Internet's becoming a real threat to governments used to rule in a closed system.
Stinging Editorials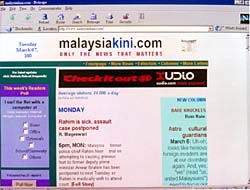 Malaysiakini.com is typical of this alternative voice. Since November last year it has impressed the Malaysian intelligentsia with its focus on "only the news that matters". To vouch its journalistic credibility, accountability and professional standard, all its articles including the editorials are bylined. Its journalists comprise of Malays, Indians and Chinese. Its staff profile breaks any suspicion that the online publication is ethnically-based and, thus, politically motivated. Already, some readers' online comments have regarded the site as being overtly supportive of pro-reformasi politics. What's acknowledged is its radical departure from the sycophantic news reportage prevalent in the mainstream English and Malay papers.
  In one of its editorials on public sector corruption, Malaysiakini noted that " ... it has been two years that a memorandum was handed to the Anti-Corruption Agency requesting it to investigate how Mahathir's three sons - Mirzan, Mukriz and Mokhzani - had acquired ownership and control over some 200 companies in a short span of a few years. The ACA responded with a stony silence. ... It has also been two years since MCA chief Ling Liong Sik was asked to explain how his twenty-something son was able to amass assets worth more than a billion ringgit. That, too, no answer from the powers-that-be. And it has been one year since sacked deputy prime minister Anwar Ibrahim alleged that Mahathir stopped ACA from taking punitive action after it unearthed evidence of corruption against Minister of Trade and Industry Rafidah Aziz. Again, there has been no explanation from the parties said to be involved."(16 Dec, 1999).
  Another editorial read:"Hypocrisy is how we should describe Prime Minister Mahathir Mohamad's unalloyed endorsement of street demos. Street demos could serve as a wake-up call, he told the United Nations Trade and Development conference in Bangkok on Saturday. After all, he banned reformasi rallies in the streets of Kuala Lumpur and these, unlike those in Seattle and Davos, were peaceful."(Feb.15, 2000). Its relatively stinging editorials have lumped Malaysiakini among 10 other alternative Malaysian news sites hosted by eGroups.com under the category "Malaysian political parties against corrupt UMNO government".
Government's Tolerance
  Notwithstanding the contextual accuracy of their reportage, alternative Malaysian websites are widely regarded as merely being tolerated by the government who knows the futility of censoring information exchange on the Internet. Would one be overly sanguine to assume the government's tolerance for political agitation and open slather is real? Malaysian public discourse has historically been limited by the ill-defined provisions of various internal security laws. Perhaps, the imperatives of an Internet economy have merely postponed the inevitable -- the silencing of political dissent.
  With the government's record for punitive response to vociferous media attacks, as in October 1987 and September 1998, it would be overly optimistic to think that the peripheral criticisms of government policies by alternative websites will graduate to the center of Malaysian public discourse. The requisite cultural conditions and human capital for a Malaysian 'rennaisance' are not as yet evident. Government bureaucracy, academic ethos and social groups are still entrapped in a communication structure which is inclined to hamper information sharing. Journalists know how frustrating it is to obtain hard information from public and private sector sources via the phone or personal interviews. In the academy, research information is regarded more as tools for self-empowerment of the elite than for knowledge generation of the people. And the tradition of uncritical deference to authority from within the social environment to schools and the state continues to define the communication behavior and intellectual growth of the citizenry.
Multiplier Effect
  Theoretically, the prevalence of alternative Malaysian news sites and the critical discourse they offer augurs well for the evolution of a civil society. However, this optimism is easily tempered by the low levels of computer ownership and Internet penetration.
  The Minister of Telecommunications, Datuk Leo Moggie notes (Feb.25, 2000) that only 11% of the population owns a personal computer compared with the world average of 35%; Internet penetration hovers around 5% compared to the world's 30%. Out of 2.5 million personal computer(PC)owners in the country, 65% are in the urbanized states of Selangor, Penang and the Federal Territory. The urban-rural divide in Internet accessibility negates the much assumed impact of the alternative news sites on changing public opinion.
  Nevertheless, as many of the middle-class Internet users in the cities tend to return to their families in the villages, one sees the potential multiplier effect in the multistep flow of information. Active Internet users are increasingly part of the opinion leadership previously restricted to those in power. Until the Internet's multiplier effect manifests itself in the mass mobilisation of public opinion, the government will continue to tolerate the alternative websites as inherent irksome offsprings of the Internet economy.
Alternative vs Mainstream
  Internet is known for its advantages over conventional media as a delivery system for news such as in-depth content, interactivity, immediacy, and access to specialised news. However, these factors may not necessarily motivate the majority of news readers who access the alternative websites. Studies have shown that convenience of access is the most significant factor for reading news on the Web rather than the alternative insights per se or the quality of its contents as claimed. A typical online news reader is usually someone casually browsing websites from computers already connected to the Internet in the workplace or college for which they have not set up or paid for themselves. For some, it is the only practical way that they can read the news while they are overseas.
  How truly "alternative" are the perspectives being provided by alternative websites? With time, will the "alternative" views become more "mainstream" when the sites come to rely more on mainstream sources to drive their online contents, and capital venture to prop their commercial survival? Traditional news sources that dominate non-Internet media are currently dominating the Internet. Readers get to read as much junk on alternative websites as they would in the tabloid papers.
  Attempts to challenge the traditional mechanics of news production, delivery and contents have so far made little impact with Internet users in general. The ease of recycling contents published in the mainstream media onto the Internet from non-Internet news sources, along with the almost total dependence on advertising revenue for recovering costs, would somehow turn out to be the ultimate survival factor for alternative websites, and less so their distant ideal of providing an open free forum for political dissent.
  With their reliance on conventional economics for survival, will alternative websites such as Malaysiakini in time repackage their contents to be more in line with mainstream interests ?