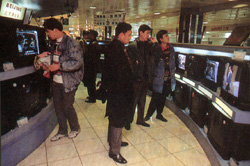 Mass media have played an important social role in China.
In principle, all mass media in China are government-owned, especially such mainstream media as television and newspapers. So virtually all mass media are government monopolies.
But something fundamental has changed since the beginning of the 1990s.Some media, including television, have already developed new kinds of private ownership -- a form of joint ownership by the government and private investors. In the 1990s, some domestic and international investors - among them the International Data Group and the News Corp\'s News Digital System-- learned that the Chinese media industry is very profitable, so they decided to invest in Chinese media, hoping to see a good yield from these investments. Of course, there are still some limitations on their investments. As for media, investors are usually allowed to put money into cable television networks, magazines, newspapers, film production and the Internet. What they can invest in is such hardware as like cable TV network construction, printing machines and so on. They have not been permitted to invest in or otherwise influence the `software\' of media, that is the content, which is, of course, more crucial and profitable. But there are some signs that these restrictions on content investment and production are beginning to loosen.
Television occupies a central position in mass media in China and constitutes a comprehensive information industry. Chinese TV began as China Central Television (CCTV), established in 1956 as the Beijing TV station. The station went on the air two years later. The system has grown considerably since then. As of 2001, there were 1,923 TV stations (1,272 of them are rural TV stations) that operate a total of 1,206 channels across the country, covering 93.65 percent of general population of the entire country of 1.2 billion persons, including 8.476 million cable users (China Broadcasting Yearbook, 2001). There are three billion television sets and 1.1 billion TV viewers in China.
A Four-Level Media System
Chinese mass media is organized on four levels, corresponding to the nation\'s four-level system of government: the central, provincial, municipal and rural county governments.
The first level, the dominant national media, includes television, which is owned by the central government. It exerts a powerful influence.
China Central Television (CCTV), with 800 million viewers, has 11 channels covering the following special interests: 1- news; 2-economy, life and service; 3-music; 4-overseas Chinese; 5-sports; 6-movies; 7-children\'s programming, agriculture and the military; 8- drama; 9-an English channel world service, which will be transmitted this year by such American cable networks as AOL Time Warner and News Corporation\'s Fox Cable Network; 10-science and education; 11 - Chinese operas. CCTV will launch its 12th channel in March 2002, which will be positioned as the Western China channel.
The second level of media are run by the 32 provincial governments and are independent from the central media, producing and broadcasting their own TV programs. This system includes 32 satellite TV channels and many regional broadcast channels.
The third level of media is at the city level. Every city has at least one TV channel. So this system has hundreds of TV stations, and therefore several hundred TV channels. The city media profoundly impact the daily life of people, because these TV channels are so close to their audiences. They report regional and local news and provide useful information to people living in the area. Local audiences even can interact with a live show in regional TV and the TV channels respond promptly to the local agenda and events. Regional media are both the most important part of the media system in China in terms of its size and the most popular part by audience in terms of its content.
The fourth level is county-level television. More than half of China\'s rural area is still underdeveloped. Although there are hundreds of TV stations at this level, they are not the main part of the media system. As for rural TV stations, they normally just transmit and replay the programs from the three levels above. It is best to view them as simply a distribution network for the massive television system in China.
An Evolving System
Last year the State Administration of Radio, Film and Television of China adopted a new policy for the TV industry, merging the so-called Four-level Media System (FLMS) into a two-level system. The new system includes only national media and provincial media. In other words, the TV stations of the third and forth level will be under the control of the provincial governments. These stations will not be allowed to produce programs except local news and some local entertainment programs, but just transmit programs from those TV stations above them.
Today, 374 TV stations are operated by the central and provincial governments. Of these, 45 are satellite stations, 234 are cable stations, and the rest are wireless terrestrial broadcast stations.
TV stations in China are undergoing the process of commercialization. It is not privatization. TV stations are still government-owned, but will have other ownership as well. Meanwhile, besides advertising, TV stations can make profits by expanding their media industry to other businesses such as the entertainment industry, tourism, culture, etc.
Prospect for Digital Broadcast Television
Both media and government in China know the importance of advanced technology. So cable networks in China are replacing their old one-way, narrowband cable infrastructure with interactive, broadband cable. Private investors also see a prosperous future for broadband networks, so they are pouring money into new technology.
Meanwhile, Chinese digital broadcast television (DBT) has been engaged in its own healthy redevelopment: Six technical platforms for DBT have been built in China and a special team of technological experts is working on its implementation. The State Planning Committee of China made the development of DBT a top priority for the next 5-year plan of national development outlined in October 2000.
According to officials of the Ministry of Information Industry, some audiences in China will be able to view digital broadcast TV at their homes in 2005 because one quarter of TV stations in China will have been digitalized by the end of 2005. In fact, DBT has begun a test run in Sichuan Province. The officials also claim that the 7.14 million cable TV audience members in Sichuan, which constitutes one tenth of all cable TV audiences in China, would become the first consumers of digital television in China by the end of 2002. Aiming toward this goal, NDS, a British manufacturer of digital TV equipment owned by News Corporation, will cooperate with the Bureau of Radio and Television in Sichuan to develop the market. According to its contract, NDS is the supplier of the conditional receiver system and set-up box operational system for digital television. It is estimated that users of cable TV would climb to 150 million by 2005 with the introduction of digital television (Source: China Broadcasting Yearbook, 2001 & Beijing Youth Daily, November 11, 2001). Generally speaking, DBT is a major trend in the future of Chinese television.
Enter the Digital Dragon
China officially designated 2001 \"The year of broadband\". Last year,China began experimental delivery of digital HDTV (high-definition television) via cable and satellite TV. It will offer home viewers digital HDTV via DBS (direct broadcast satellite) in 2003. A quarter of terrestrial broadcast television stations will offer digital signals by 2005. By the end of 2010, all radio and TV stations in China will broadcast digitally and will stop transmitting all analog signals in 2015. It is expected that through digital television, including over-the-air, via cable and satellite, Chinese viewers will watch video on demand (VOD), access the Internet with high speed service, and get interactive services including distance education, video conferencing and the like.
Japan\'s broadcast of the Seoul Olympic Games of 1988 in Hi-Vision (NHK\'s high-definition television) may have given U.S. broadcasters and regulators the impetus to develop digital television. But China may soon be the world\'s largest and most profitable digital television marketplace.