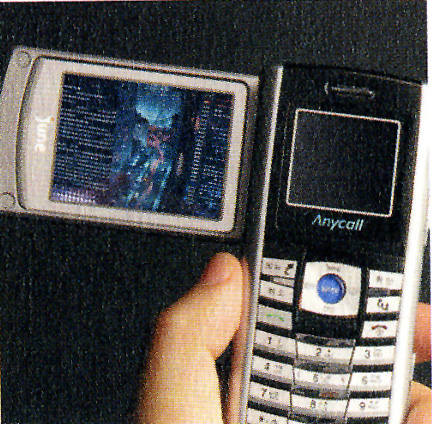 When looking back at this past decade, it has been a period of time marked by continuous and innovative development in communication technology. This innovative development of technology has made it possible to discuss and prepare for the Ubiquitous Age.
So, what do we mean when we mention the Ubiquitous Age? Well, with its latin origins, the word has various meanings when taken within the broadcasting context, "Ubiquitous" takes on 5 "Any" situational qualities: it can mean anytime, anywhere, anything, anyone, and any device network.
For us, the "Ubiquitous Age" means a communication environment in which any informational service is available to anyone through any device or network without any limitations of space and time.
Future Vision of Broadcasting
The Ubiquitous Age has redefined the paradigm of broadcasting services. Several characteristics describe the current environment of broadcasting services: Ubiquity, Accessability, Convenience, Localization, Personalization, etc. These characteristics mean that we are now able to distribute and access more information than ever before, with a level of personal interaction never thought imaginable in communication media.
In a Ubiquitous Environment, communication, computing and context awareness occurs at the same time with interaction, convergence and integration. In this regard, one can say that the Ubiquitous Environment is based on the convergence between broadcasting and telecommunication.
Gone is the analog broadcasting era with its one-way communication system; here now is the new digital media era, in which the communication pattern is rapidly changing and constantly improving the two-way communication system.
The innovative development of Broadcasting technology has caused a massive change in the present broadcasting environment. The convergence phenomena between broadcasting and telecommunications has especially forced us to rethink the social value and function of broadcasting. So, as broadcasting companies, our duty is to reposition ourselves in the present and upcoming society.
Convergence & Integration
At the heart of innovation in broadcasting technology is the convergence between broadcasting and telecommunication technology, a convergence which has made the present multicasting environment possible.
Until recently, broadcasting developed for the most part based on public interest and value, while telecommunication developed based more on industrial logic. Because of this, it is important that broadcasting and telecommunication bring their knowledge and expertise together, achieving a mutually beneficial convergence and integration.
In the case of broadcasting, the digitalization of broadcasting and ubiquitous-casting has changed the traditional boundaries of the broadcasting communication process. First of all, the present broadcasting system is changing into an interactive digital multicasting system. As such, we are seeing the broadcasting communicator changing from a simple program distributor to a service provider, not only able to offer information content, but also able to provide the services viewers demand.
The broadcasting environment of the future will have a theme of co-existence: content, network and service-providers will all co-exist, while actively competing against each other. Thus it is our challenge as broadcasting companies to effectively react to these environment changes.
Content Competitiveness
One can say that providing viewers with high quality programming is the most basic mission of broadcasting. Thus, as it has in the past and the present, the most important factor in the communication process between communicator and viewers in the future broadcasting environment will remain programming content.
Under the new circumstances of multimedia and multichannels, the competitive power of present terrestrial broadcasting has diminished. Viewers now have a greater number of choices when it comes to meeting their needs. In response, terrestrial broadcasting companies need to improve their program competitiveness. So, in the unlimited competitiveness structure of the multicasting environment, the focus should always be on how to produce better high quality programs and more effective ways to deliver them to our viewers.
We need a much more contents-centric strategy and idea to prepare for the scenario of "Channels are unlimited, but the content is limited."
The success and failure of future broadcasting technology will depend on the quality of broadcasting contents and how quickly and effectively broadcasting can react to the demands or needs of its viewers.
Financial Policy
We say that broadcasting should be independent and free from political and commercial influences. To be able to support these objectives, broadcasting must have a stable financial structure.
To deal with the realities of the new digital multicasting environment, there needs to be more consideration given to creating a concrete plan and strategy for financial management. Since multicasting is a high-cost business, the portion of charged media will increase. Yet, this charged media system could end up weakening the reasonability or legitimacy of the license fee system of public broadcasting. In other words, due to the additional costs, social consensus regarding the license fee system could fade. Thus, the question of how public broadcasting can manage license fee system stability is a crucial one.
In the multicasting environment, the traditional pattern of broadcasting advertisement is changing and moving into another pattern, like mobile advertisement for example. However, because it is likely that the new pattern of broadcasting advertisement will not have the same viewer loyalty in comparison to the traditional pattern, the result will be a decrease in broadcasting advertisement income. In order to deal with this issue, terrestrial broadcasting needs to strengthen its advertisement marketing ability.
There will be stiffer competition between broadcasting and telecommunication, and between terrestrial channels and digital new media channels. One of the implications could be that the viewer diagram and the advertisement market will be divided. Regarding this advertisement issue, it is important for terrestrial broadcasting to effectively manage the advertisement strategy in an on-demand broadcasting market.
Identity Establishment
We can say that until recently, public broadcasting functioned on the basis of scarcity of frequency, which was seen as a public good. But the situation has changed. Due to the appearance of new media, such as cable, satellite, digital media, etc., we are now living in a multimedia, multichannel environment. This innovative development of communication technology has made us redefine the concept and substance of broadcasting and rethink the function and role of broadcasting. Under these circumstances, we need to sincerely think about broadcasting's identity, function and social value.
More and more, we are hearing voices critical of the function and role of public broadcasting. In other words, social acceptance for public broadcasting is slowly decreasing. This is an alarming signal. It means we are not doing enough to remind viewers the necessity of the presence of public broadcasting. This is a challenge for all public broadcasting companies to strengthen the "universal service" we provide to our viewers, so that they can once again realize the significance of public broadcasting.
Although the communication technology and the broadcasting pattern are rapidly developing and changing, the basic function, role, and traditional spirit of broadcasting should and will remain the same. The evolution process of broadcasting technology should always take place in the context of viewer welfare. In other words, it should always improve viewer convenience. These days, people mention the crisis facing broadcasting in this multichannel environment. Their arguments are valid, particularly when it is considered in terms of identity, competitiveness, social influences, and so forth. It is an undeniable reality that broadcasting companies are experiencing more and more challenges. That is why it is so important to make viewers recognize the necessity and value of public broadcasting. It all starts with establishing a strong identity, a clear sense of the public mission to serve viewers.
Promote Digital Media
In the ubiquitous broadcasting environment, there are several potential negative side effects. Privacy, for one, will be a bigger concern in the future. We need to protect the private information of our viewers. Along those lines, we must make sure proper security systems are in place to protect software and hardware from dangers like viruses and hackers.
In the process of preparing for the future of broadcasting, we also have to seriously consider the possible negative social effects new broadcasting technology may have. Broadcasting companies must be aware of the "Digital Divide" and make efforts to minimize the informational gap. We need to find ways to avoid and prevent the informational gap not only among people, but also among nations. In this regard, we must strive to have measures in place to promote education toward digital media. It will be an important duty for broadcasting companies to contribute to the cause of media literacy.
So in conclusion, broadcasting in the ubiquitous age will have its share of both challenges and opportunities. To be prepared effectively for the changes the ubiquitous age will have onto the current broadcasting environment, we need to formulate a systematic-strategic action plan. At the heart of which needs to be the realization of a new service vision.
■