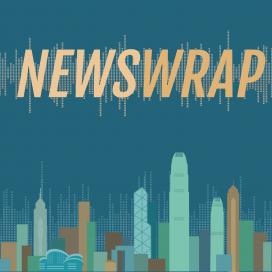 Newswrap
Description:
Our main evening newscast. Weekdays 18:00 - 19:00.
Presenter:
RTHK Newsroom
Now playing:
足本播放 Play full episode
Selected audio segments:
The national anthem bill is passed in Legco amid opposition
Listen
Legco has passed the national anthem bill, which makes disrespecting or misusing the national anthem a criminal offence, with offenders liable to fines of up to 50-thousand dollars or three years in prison. The vote this afternoon was 41 for, 1 against. Earlier, all 21 amendments the pro-democracy camp put forward to the controversial bill were voted down. And as part of last-ditch efforts to stall the bill, the debate was interrupted at lunchtime when opposition lawmakers Chu Hoi-dick and Ray Chan threw a foul-smelling liquid onto the chamber floor, leading to police and firefighters being called in. Our reporter Wendy Wong covered the chaotic meeting, and told Ben Tse what happened.
About a hundred Sha Tin residents are being evacuated because of Covid-19
Listen
Around a hundred residents of a public housing block in Sha Tin are being evacuated from their homes and sent to quarantine camps as a precaution against Covid-19. Despite earlier telling residents of a housing block at Lek Yuen Estate that it was safe to stay, health authorities changed their mind after a seventh resident there tested positive for the coronavirus. They now suspect the virus may have been transmitted via the sewage system, and people who live in flats that have pipes connected to those of the infected patients are being moved out as a precaution. Annemarie Evans asked the chairman of the Medical Association's advisory committee on communicable diseases, Dr Leung Chi-chiu, what he made of the government u-turn.