I would like to start on a positive note, with a remark which I picked up from a recent seminar on the entreprennial spirit of Hong Kong :"Our future is greater than our past."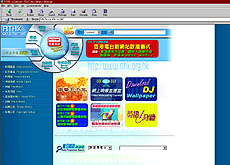 RTHK ON INTERNET undergoes content revamp and has further enhanced its online services.
  At the start of the new millennium, I should very much like to think that this applies to all of us here.
  But does the future really belong to us? Or is the future so different from the past that only the younger generation could handle the changes?
New Information Age
  A friend of mine asks his twelve-year-old son about the capital of the United States, and what D.C. stands for. The child's reply is prompt and innocent : "Of course it stands for Washington dot com".
  As we all know, the youngsters have been obsessed with dot com's for some time but we are only now beginning to grasp their potential. As I discovered at a gathering of university alumni, we are obsessed with rather different things, such as age.I had this from a chap who's two years my senior in university." When it suddenly dawns on you that when you enter a room and have the urge to switch off the lights, for economic reasons and not romantic reasons, then you know you've reached middle age."
  But grown-ups are also obsessed with money. I heard this group of economic graduates who were generally doing very well complaining jokingly in front of their professors and mentors at a class re-union. One CEO raised his voice and said : "Forget about all the theories we learnt, somebody should have told us just to buy the right stocks, for example Hutchison Whampoa."
  Hutchison's deals on Orange and Mannesmann seem ages ago now. Meanwhile the new start-ups are revolutionizing stock market speculation with virtual reality deals. In a recently published article on "A New Reality", Richard Li writes :"I expect there could be one global stock exchange operating 24 hours a day, with one set of reporting, accounting and market rules, yielding enormous benefits. The new Information Age will mean greater transparency and maximum liquidity. Similarly, there may only be one central bank by then and one currency, though it may not be the dollar. As a result, there should be much less volatility in markets and economies.
  Well, less volatility, one market and one currency. He may well be right in his predictions, but would you look forward to this brave new world? Or is it s bit too boring for your taste?
Broadcasting Super-market
  Not everyone shares the same vision. Our maverick entrepreneur Jimmy Lai was recently quoted as saying :"The Internet has no rules; I don't like rules. The Internet has no conventions; I don't like conventions. It's a great world for me."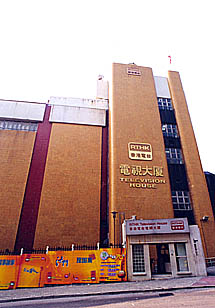 RTHK strives for quality and credibility, providing services for both the broad spectrum of audiences as well as minority interest groups.
  Of course this may also be why the world wide web (www) is nicknamed the wild wild west.
  But there is no doubt that the new technology is challenging the traditional modes of communication. Whereas in the past we believed that the spectrum was a valuable and scarce asset, there are now so many ways of delivering a programme.
  At a broadcasting conference last year, a European colleague boldly proclaimed that every television channel would become a minority service, targeting a niche market. The Internet threatens to take this even further. The broadcasting super-market may soon become a reality. Our listeners and viewers will then be able to go online to pick from the net whatever programme they want. The age of narrow casting is finally arriving.
Uphold Traditional Values
  What does this future hold for the public broadcaster in Hong Kong? Will it have the ability, and the flexibility, to react to phenomenal changes in the new environment?
  I believe the public broadcaster will play an even more active role in the changing world. Our future depends on how we find that role and stay effective. The best response may well be to continue to uphold our traditional values, but at the same time, explore opportunities in the new media.
  Our most treasured values include the now widely accepted policy of editorial independence, the journalistic requirement for impartiality, our striving for quality and distinctiveness, and providing services for both the broad spectrum of audiences as well as minority interest groups.
Quality and Credibility
  A skeptical remark by an eminent journalist goes like this - " Journalism is a craft to be mastered in four days, and abandoned at the first sign of a better job". I would beg to disagree - within the broadcasting organizations, we do have, and need, people committed to journalism and our traditional values.
  We are now exploring opportunities in the new media. RTHK's Internet web page, established in late 1994, then first of its kind amongst the local media, is visited daily by close to a million hits. We shall soon upgrade both the speed and the content of our service, which will mean our overseas audiences could have real-time access to all our radio channels and prime-time TV programmes.
  Indeed we see huge opportunities on the Internet, because we are no longer bound by constraints of the airwaves. The new technology is allowing us to deliver our programmes to audiences around the world in real-time.
  Traditionally, a public broadcaster excels as a content provider. What we need to ensure is that our productions are distinctive and appealing. In the new media, we may have all the choices in the world, but ultimately, I believe, quality and a credible brand identity will remain the people's choice.
* Extracted from the speech delivered at the Royal Commonwealth Society Annual Ball on 11 March 2000