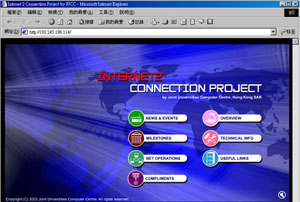 The Joint Universities Computing Centre launched its Internet2 connection in Hong Kong.
小肥今日推出第一张个人大碟 "The First Album of Siu Fay"
小肥当年的C-PLUS
Internet2(R) is led by over 200 US universities working in partnership with industry and government to develop and deploy advanced network applications and technologies, accelerating the creation of tomorrow's Internet technologies. Leading-edge networking is now deployed among more than 225 Internet2 member institutions in the US and in over 40 countries around the world. The unique networking environment created by the Internet2 community enables experimentation and collaboration with new Internet technologies and applications that would be otherwise impossible. Leaps in network capacity and capability enable applications that do not work well or at all on today's commercial Internet. Such applications include tele-surgery, DVD-quality videoconferencing, remote access to and use of unique scientific instruments, and distributed high-performance Grid computing.
Collectively, the Internet2 community is:
- enabling a new generation of network applications,
- creating a leading edge network capability for research and education,
- fostering the transfer of technology and experience to the global Internet.
Internet2 and similar organizations around the world are working to expand the potential of the Internet. On February 21, the Internet2 International Partner in Hong Kong – the Joint Universities Computing Centre (JUCC) launched its Internet2 connection – a dedicated high-performance network connection that links the universities and research centers of Hong Kong with counterparts around the world.
Why Internet2?
The Internet has become a ubiquitous tool in our daily lives, changing how we work, live and learn. But today's commercial Internet was not designed to meet the evolving needs of the research and university community.
Since commercialization in 1994, key characteristics of the Internet have changed: the size of the network and the bandwidth required by applications exceed the original design parameters of the underlying technologies. Tomorrow's Internet promises even more demands: many more users and even more demanding applications. New capabilities must be developed to realize the potential of tomorrow's Internet.
Today's Internet has serious shortcomings. Some of them are performance or technically related, which limit the kinds of applications and capabilities the network can support. Other limitations affect the ability to innovate new capabilities that would address some of the performance and technical limitations. Commercial Internet service providers are concerned with providing a reliable service and are often unwilling to experiment with new technologies that may disrupt their business.
Universities provide an effective testbed for new technologies. Internet2 is enabling revolutionary applications, fostering the development of interoperable middleware, testing new network capabilities, deploying a high-performance network infrastructure, and encouraging technology transfer to the global Internet.
Advanced Applications
Enabling the development and use of new Internet applications is a key goal of Internet2. As is increasingly true of science and education around the world, US higher education's dual research and education missions require close interaction among distributed teams, use of remote scientific instruments and access to unique information resources—capabilities not well supported by today's Internet. As with the first round of Internet development, we expect academic demands for these types of capabilities to presage those of the commercial sector. For example, an astronomer can now control and receive images from a telescope thousands of miles away as if she were at the mountaintop observatory, and a doctor can teach medical students across the country by collaboratively navigating 3-D anatomical images. These same capabilities, when applied to business, may enable designers and engineers at remote sites to collaborate on a product design that exists only as a computer model.
Internet2 members are working together in application areas such as high-quality video that are broadly applicable across various academic disciplines. Through the Internet2 Commons initiative and the Internet2 ResearchTV Working Group, for example, Internet2 members are exploring the advanced network technologies needed to capture, access and transmit video in qualities up to HDTV. These capabilities enable high-quality video conferencing, on-demand high-definition video, and video-rich collaboration tools.
For example, faculty and students from Oklahoma University are now using broadcast quality video over Internet2 networks to conduct master violin lessons while the instructor and student are separated by over a thousand miles. This provides the students with access to world-renown musicians who rarely visit their university campus. At the same time, the demands of the musicians for delivery of extremely high-quality audio and video—in order to hear the phrasing of a group of notes or to see the student's positioning of the instrument—are driving developments in new equipment and network technologies.
Broader use of high-quality video-conferencing among multiple participants is also important to the work of Internet2 members. Key scientific communities – such as high-energy physics – engage hundreds and sometimes thousands of researchers from around the world in single, multi-year experiments conducted at places like the European particle physics laboratory, CERN, in Geneva, Switzerland. This community continues to develop multi-person video-conferencing systems, such as the VRVS system that can support rich collaboration among participants in the experiment.
Internet2 is also focusing on specific disciplines that will particularly benefit from the use of advanced network applications. The California Orthopedic Research Network – a project of several Internet2 universities – enables surgeons to participate in remote surgical procedures and allows students to observe interactively using high-bandwidth videoconferencing. This type of application being developed with Internet2 capabilities enables not only research in this area, but also education, as the students are able to have entirely new learning experiences.
Middleware
Middleware, a layer of software between the network and applications, provides services such as identification, authentication, authorization, directories, and security. Standardized and interoperable middleware will make advanced network applications much easier to develop and use. Middleware will also enable businesses to more easily interact with each other in a secure environment, provide services over the network, and even enable consumers to seamlessly interact with many different companies.
The Internet2 Middleware Initiative (I2-MI) is focused on developing and deploying these components of middleware interoperably between and among Internet2 member institutions. Just as the network Internet2 members have put in place interoperates utilizing the Internet Protocol standard, a middleware layer of national connectivity that enables applications and provides data for network operations, is being developed within the Internet2 community.
For example, a student at Stanford might be part of a research team based at MIT and needs to regularly access the scanning electron microscope that is connected to the network at MIT. That student needs to have a secure way to identify herself to MIT, which controls access via the network to the microscope, and MIT needs to have a way to authenticate and verify that the student is a legitimate member of the research team from Stanford. Shibboleth is an I2-MI project to develop and deploy tools that enable inter-institutional sharing of resources subject to access control.
High-Performance Network Infrastructure
Establishing a high-performance network infrastructure to support advanced applications and technologies is another goal of Internet2. Since Internet2's inception, its university members, working with partners in industry and government, have put in place a high-performance network infrastructure dedicated to research and education use. Within the United States, the Abilene network, made possible through a partnership among Qwest Communications, Cisco Systems, Juniper Networks, Nortel Networks, Indiana University and UCAID (the formal not-for-profit organization that is home to Internet2), serves Internet2 members.
The Abilene network is currently undergoing an upgrade to a 10Gbps wavelength backbone with eleven core router nodes. Abilene now has over 50 'connectors' who in turn provide access for over 210 Internet2 member institutions. Connection speeds to the Abilene backbone range from 155 Mbps to 10Gbps.
While Internet2's Abilene backbone network runs the same Internet Protocol as the commercial Internet, there are several advanced Internet services that Abilene runs that are not run on the commercial Internet. Native multicast is one such technology – critical to the ability to run several high-bandwidth, high-quality video streams at once – supporting multi-participant broadcast-quality video conferencing as well as streaming of HDTV-quality video over the network.
IPv6 has also already been deployed throughout the Abilene backbone network and across many of the university campus networks connected to Abilene. IPv6 promises to dramatically expand the number of unique addresses available as millions of additional computers and a multitude of new types of devices—from automobiles to telephones—connect to the Internet. IPv6 also promises to facilitate mobility and security, among other capabilities. Since IPv6 has not yet been widely adopted by commercial Internet service providers Internet2 networks are providing a testbed for new IPv6 applications and technologies.
Because advanced applications require end-to-end network performance, regional and local components of the high-performance network infrastructure are as crucial as national backbones. Within the United States, Internet2 members are leading nearly 30 regional networking consortia, or gigaPoPs. GigaPoPs are a successful and well-established part of the high-performance Internet and provide regional hubs of technical expertise as well as backbone network connections.
Extending collaboration beyond the borders of the United States has been an important aspect of Internet2's activities. Ensuring global interoperability in new networking technologies and enabling research, teaching and learning to take place across national boundaries are the key goals of Internet2's international efforts. Internet2 networks interconnect with over 20 research and education networks from outside the US, providing access for Internet2 members (and vice versa) to the research and education institutions of over 40 countries.
HARNET – the research and education network serving the universities of Hong Kong – has recently connected with Internet2 networks, providing high-performance network connectivity not only with Internet2 member institutions but also with all of the research and education networks around the world with which Internet2 networks are connected.
Technology Transfer
A primary goal of Internet2 is to transfer the knowledge and experience gained through the efforts of the Internet2 community to the broader higher education community and the global commercial Internet. Just as past academic use of the network applications such as the Web and email preceded their commercial adoption, we expect use of the Internet in higher education and research today will foreshadow the potential of tomorrow's Internet.
To affect this technology transfer, Internet2 is engaging members of industry with over 60 corporate members.
Technology transfer into the rest of the education community also is a key aspect of Internet2's development. Internet2 members have made it possible for non-Internet2 institutions in the US to connect to the Abilene backbone network for the purpose of collaborating with Internet2 members. In many cases the institutions connected have been community colleges, four-year non-research, teaching institutions and secondary schools.
Extending the Potential of the Internet
The true promise of Internet2 lies beyond our ability to imagine. The lesson of the World Wide Web teaches us that new, unanticipated applications may well be the ones that transform the way we work, live and learn a decade from now. Internet2 and partner organizations around the world are working together to foster an environment that will enable these new applications to flourish.
Just as today's Internet reduced the distance between countries in many respects, new capabilities and applications now being prototyped by Internet2 and other advanced networking organizations around the world promise to make distance all but irrelevant. By extending the potential of the Internet beyond today's technology, advanced Internet applications will open possibilities we have yet to imagine.