A major challenge confronting public broadcasting in the 21st century is to re-define its business and its further development in the digital era. With technological innovations and new ways of disseminating information, the modern media economy represents a new playing field in which traditional values are constantly being questioned. How does a public broadcasting service re-position itself in this rapidly changing media landscape to maintain its competitive edge? The question is particularly pertinent at this very moment when many business models in the new economy are faltering.
  Where is the justification for a public broadcasting service?
  Traditionally, the rationale for a public broadcasting service is anchored along these arguments:
1. The spectrum is a scarce asset, and so there is a need to ensure a presence of public broadcasting in the air-waves;
2. A public broadcaster exists to inform, educate and entertain;
3. A public broadcaster takes care of minority audience interests, and provides programmes which might be at risk in the commercial sector; and
4. The public broadcasting service acts as a benchmark as far as production excellence is concerned-it should be innovative, creative and of a high quality.
  Over the years, there have been many challenges to these arguments. I would however venture to say here that at no time in the past has the challenge been more serious than the present day - when technological advancement and proliferation of delivery channels appear to threaten to render the public service argument obsolete.
Question 1 - the spectrum is a scarce public asset
  The original idea for public broadcasting started with the premise that the spectrum could provide only a limited number of transmission frequencies and therefore some of these should be reserved for public service use. The argument still appears to hold water but must be fast weakening. Delivery of programmes can now utilize many different types of platforms and the number of programme channels is multiplying quickly.
  We are facing a convergence scenario and the prospect looks increasingly menacing that each and every broadcasting channel will eventually become just one of many "minority" channels.
  For a public broadcaster of many years' standing, how do we meet the challenges under the convergence scenario?
  Let me pause here to recount the development of RTHK. For over 70 years, RTHK has been the dominant radio broadcaster in Hong Kong. Since the 1970s, it has also provided a substantial public television service. Before the Internet came along, due to frequency and transmission limitations, our reach was limited to the local Hong Kong community, albeit with some spillage over the adjacent mainland areas. With the rapid growth of Internet accessibility, however, RTHK is now a keen player in the new digital global marketplace.
  We were the first broadcaster in Hong Kong to go online in December 1994. As a pioneer, we were also the first in Asia-Pacific to conduct trials of Real-audio and Real-video for multimedia applications. Nowadays, all our radio channels and prime-time television programmes are webcast live. Access to the RTHK website reaches as high as a daily hit of 2 million with over 60% of visitors from overseas. Offering a combination of Internet, radio, television, and on-demand services, the new media technology has helped advance RTHK's service beyond the local market to a huge international audience.
  Clearly by embracing the new media, RTHK is not only looking beyond the day when the traditional argument on spectrum scarcity becomes irrelevant, but also actively positioning itself to become a player in the new environment. In 2000, we published a set of VMV, and our vision statement goes like this -"to be a leading public broadcaster in the new media environment" . Over the past two years, we have more than doubled our financial commitment in new media development.
Question 2 - to inform, educate and entertain
  Again the question has been rightly put- is not everybody else in the broadcasting business doing more or less the same things - to inform, educate and entertain the public?
  While recognizing that that may well be true, our response to the challenge must be that we should attempt to excel by identifying our strengths and cultivating them. We take the task seriously, and we will use our best efforts to respond to public demand in the provision of information, education and entertainment in our programming. But how?
  For a public broadcaster, we believe that CONTENT IS STILL KING! Traditionally, a public broadcasting service excels in providing a diverse and balanced quality programming to the public. RTHK, through its years of committed programming, has in turn cultivated a brand name which is recognized as a valuable asset both at home and abroad. We will be careful, in the process of technological transformation, not to lose sight of our strength. The emphasis on content must be an essential motto for a public broadcasting service in order to maintain its sense of balance amidst this torrent of technological advance. In fact, I can see this emphasis being a distinct edge in the new media game. Nearly all media mergers involve at least one content provider. No technological sophistication or innovation could survive without viable content.
  As we have seen, synergy is a magic word in the new media scenario and a public broadcasting service, like it or not, has to go into alliance with other forms of media to survive. Traditionally, a public broadcasting service is more likely to collaborate with non-commercial interests under the ambit of public funding. Today, many public broadcasting service operators are breaking away from this formula to find new ways to enrich their operations outside the mainstream public purse. The alliance with commercial interests by a public broadcasting service is no longer a taboo, but a necessity, and also a way to deal with cost pressures. As a first step, RTHK will soon go to the market to test its interest in our programmes archives- 40,000 hours of audio and 9,400 hours of video material. Our aim is of course to offer a service to make our archives available via the new media.
  Alliance with non-commercial sectors of the community could be a valuable strategy for a public broadcasting service still bound by constitutional constraints, such as RTHK. We accept sponsorship from non-profit making organization in our programme production, and actively seek partners in developing new initiatives. Good examples are our co-production effort with other public broadcasters, and our recent participation in a "Chinese Culture Net" proposal undertaken by the tertiary education sector to provide a multi-media experience of Chinese culture on the net.
Question 3 - serving minority audience interest
  With the proliferation of channels, it will be argued that some time down the line, most or all minority interests will be served and therefore the public broadcaster will lose this leg of its argument. On the surface, this looks likely. There are global giants like Discovery & National Geographic channels offering programming which in the past could well be regarded as corner stones of public service productions. In Hong Kong we witness for example the emergence of SunTV which provides cultural and educational fare in stark contrast to the traditional type of programming on commercial channels.
  However, now and even for some time into the future, I do not see all these really eroding the public broadcaster's role. Commercial ventures must look for a critical mass in their marketing and will tend to serve fairly general taste.
  Everywhere, a public broadcaster provides original programmes satisfying special needs and suiting local tastes. The PBS in the States excels in children television, while CBC Canada and ABC Australia both boast excellent original productions. This is a role unlikely to be replaced by commercial operators. For instance, here in Hong Kong, I do not see any threat to our Radio Four classical music service. Next month, we shall launch the first telecast of a Hong Kong Philharmonic concert. This is turf unlikely to be favoured by profit-oriented operators. Our recent ETV on-line ventures are also prime examples of niche programming that will continue to justify the cause of the public broadcaster.
Question 4 - quality benchmarking
  As a public broadcaster, RTHK does not look for advertising revenue. We compete for quality and we believe that good quality productions will in some cases translate into higher audience share.
  Let me quote some interesting points from a recent survey on public service broadcasting around the world. The survey found that :
"The best broadcasters are those which are truly the most distinctive and those that popularize new programme formats (not just copy already successful formulas from other country);
Those with a clear mission or distinctive programming- recognizable brand if you like- are likely to be most successful;
The most successful look to modernizing their operations, reducing overheads and looking for new areas of activity as the market changes; and
The better the quality of the public broadcaster, the better will be the quality of the country's broadcasting system in general;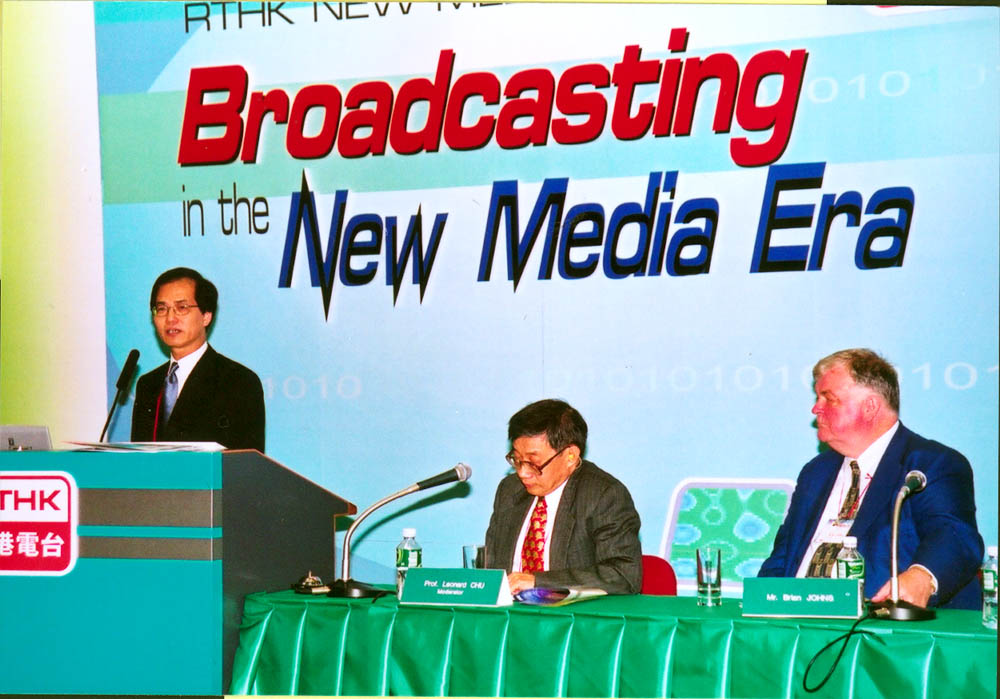 Public service broadcasters are just as relevant today- and probably in fact they are more relevant than ever before."
  Public broadcasters are therefore pace-setters. They set the tone for broadcasting. They enrich the cultural landscape. It is definitely with this in mind that RTHK started to push for an appreciation index survey since 1991. Hopefully our continual effort will result in the AI being regarded as an important measurement of production quality. As a way of opening our door to more talent and production style, we have also started an experiment to commission television drama and documentaries from independent producers. I am optimistic that this will prove to be a successful venture.
Summary
  All in all, I believe a public broadcasting service can maintain its viability through making itself not easily dispensable. This can be achieved by various means, by providing unique content resources, by embracing new media development, and by firmly integrating itself into the very fabric of local and global community life through alliances with strategic partners, at the same time without foregoing our traditional core values and mission of providing an independent, distinctive and diverse broadcast service.
* A Presentation at RTHK New Media Seminar on ' Broadcasting in the New Media Era' held on 16 March, 2001