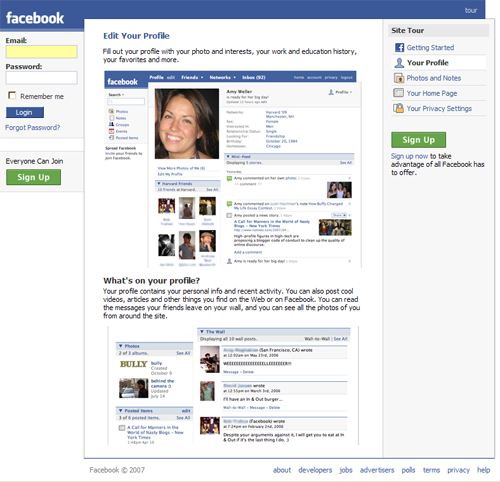 Facebook demonstrates a successful interaction model.
Seems like Web 2.0 is a very hot topic now on the Internet, every websites and companies are trying very hard to create the Web 2.0 versions of their web presences or to be "Web 2.0 Enabled". Venture Capitalists receive thousands of proposals each day from Web 2.0 startups that try to be the next YouTube (YouTube was sold to Google for US$1.65 billion).
What is Web 2.0?
So what exactly is Web 2.0? According to Tim O'Reilly (the originator of the term Web 2.0), "Web 2.0 is the business revolution in the computer industry caused by the move to the internet as platform, and an attempt to understand the rules for success on that new platform."
How come he did not mention terms like blog, wiki, ajax, mashups, or any other Web 2.0 buzzwords? Are these supposed to be the features or characteristics users value the most when they use Web 2.0 sites?
In fact, Web 2.0 is not about any particular technology. Web 2.0 is about how people can leverage the Internet as a platform to effectively attract users and provide services to the users. For example, YouTube provides all the users on the Internet a platform for digital broadcasting. Before YouTube, if people want to publish a video to mass audience, they will need to go through multiple layers of funding, auditing, producing, and approval by a handful of broadcasting companies. With YouTubeÕs platform, anyone with Internet access can publish a video in just a few minutes. Essentially, YouTube reduced the role of the broadcasting companies as the only channel to publish media to the mass market. YouTubeÕs platform is also very powerful due to the popularity. Any interesting video can get millions of views in just one day. It is powerful enough to a point that the traditional broadcasting companies such as CNN has to work with YouTube on initiatives as important as the US presidential debate (http://www.youtube.com/user/YTdebates).
A logical next question would be to ask "What is the platform for Web 2.0?" Mr. OÕReilly mentioned using Internet as a platform, so is Internet the platform? Internet is a technology to connect all the public networks and computers in the world, so that people can communicate with each other without boundary. Internet is the technology to enable the true platform, the Social Networks.
Social Networks in the Internet context is a term used commonly as the shorthand for social networking services such as MySpace.com, Facebook.com, Youtube.com, etc. These Social networking services essentially create an online community for people to socialize. Social Networks have two key features. Firstly, Social Networks enable users to express themselves to the world in different ways. People can create a blog on Blogger.com, a video on Youtube.com, a photograph on Flickr.com, or a bookmark on Del.icio.us, etc. All these contents or digital assets are created and published by the users to be consumed by other users on the Social Network. Secondly, Social Networks allow users to interact with each other in many different ways. Together users can play games, discuss certain topics, share comments, and communicate with each other using email, instant messaging, or voice and video. The power of a Social Network comes from its far reach to millions of users. MySpace.com reported it attracts 230,000 new registrations per day and as of September 7, 2007, there are over 200 million accounts. The utility of any user using the social network service directly depends on how many of their friends are on the same network. Once the social network gathers enough critical mass, the growth rate will be exponential due to the users themselves are persuading their friends and families to register.
Social Networks can be classified into 3 tiers. Tier 1 social networking services provide functions for the users to manage their contacts and to search for other (possibly unknown) users with matching interest. They will also need to provide the essential features of publish and interact as of any social networks. Facebook, Flickr, LinkenIn, MySpace are some examples of tier 1 social networking services.
Tier 2 social networking services are like tier 1 except that users can only add contacts that they already know through other channels. Classmate.com, YouTube, Yahoo! Answers are some examples for this tier. Tier 3 services are the ones that only provide the essential functions of publish and interact with minimum or no function to manage your contacts. Blogger, Amazon, Wikipedia are examples of this tier.
So what can you do with the platform or Social Networks? Without a workable business model, a popular social network becomes a huge burden to maintain with all the newly generated contents and to keep the response time reasonable. As Mr. O'Reilly clearly stated, "Web 2.0 is a business revolution." The key to harvest the true value of the Web 2.0 wave is to find a profitable and workable business model on top of the platform.
If we try to classify the business models for the existing social networks, there are 3 major business models: Advertising, Subscriptions, and eCommerce. Almost all social networks contain some kind of advertising components on their interfaces. As users publish themselves and interact with each other, they create large amounts of traffic fast and cheap. Since the social networks help the users to maintain the connections with their friends, users login frequently and willingly generate large amount of free content to be consumed by other users. The operators of the Social networks do not need to buy expensive contents from the highly paid media professionals. All these fast and cheap user traffics transform to potential advertising inventory or revenue for the social networks.
However, the social networks are still struggling to find a suitable model for selling their advertising inventories. Take YouTube as an example, according to GoogleÕs fillings the services revenue from YouTube is about 15 million in 2006. Compared to the purchase price of 1.6 billion dollars, the rate of return is barely 1%. Advertisers are concern about the copy right issues of the videos published on YouTube, before that can be fixed, many companies are reluctant to post their ad there.
The second business model is Subscriptions. Usually, these subscriptions based social network will provide some basic services free of charge for the users at the beginning. Once the users want to have access to the more advance features of the network, they will need to pay certain fees. Classmates.com, Flickr and Webshots are well-known example of subscription based service networks.
The third business model is eCommerce. Since many social networks has profile information of the users and know what they are interested in, it will be a natural extension to sell them the products in the related area. Amazon.com is a very successful eCommerce site based on social network. Users login to the site and provide reviews and comments on the books and Amazon track their browsing behaviors to suggest certain types of book to the users.
Besides commercial entities, there are many different entities that can leverage the power of social networks to better serve their audience. A prime example in Hong Kong is RTHK. RTHK as a public broadcaster in Hong Kong which has started building the online community to facilitate online and offline interactions with users for many years. A recent social network created by RTHK ON INTERNET is the online Bookcrossing project (www.rthk.org.hk/special/bcr/). Users can contribute and obtain books at the distribution points, and need to provide comments about the books online after they finished reading the books.
Peer to Peer Cotent Generation
Web 2.0 is not about technologies, Web 2.0 entails innovation on value added services that can facilitate peopleÕs interaction over the Internet. The old model of one to many content generation and consumption can no longer satisfy the hunger for information anymore. This new peer to peer content generation and consumption model can satisfy both the need for consuming and publishing information.
Utilizing the power of Social Networks as the platform, service providers can be the middleman or broker of information exchanges for the users. One can be sure that business values can be derived from all existing or future successful social networks. The more advance networks are extending beyond contents and are moving into the application area. Facebook.com provide a application platform for the users to create and deploy different type of applications on the Facebook network. Since the launch of the Facebook platform in May 2007, there are already more than 5600 application published on the network. Applications range from business related to pure games for fun.
May be we should forget about the term Web 2.0, as it is merely a classification of Internet services that can provide huge values and utilization to their users. Instead, we should focus on the models that are behind all these successful services and see how they are providing tremendous values to the users. Technologies such as blog, ajax, or mashups are the means to the end, but not the end itself. Blindly including these technologies is not going to "Web 2.0 Enable" you site. The true value of Web 2.0 lies within the interaction model on top of the social networks.