The crash of the Malaysian ringgit early this year followed by current public protests against the sacking of Anwar Ibrahim from his ministerial perch has led to some hard soul searching by Malaysian journalists regarding their 'peacemaking' function in times of political and economic uncertainties. Not surprisingly, the Malaysian government has unashamedly directed the local media to 'talk up' the economy. The government's sentiment is that there is no room for those who are not team players.
To date those who have 'resigned' from the team are two editors from the national dailies, one director of operations at TV3, two top brass from the Central Bank and, lately, the sacking of Anwar Ibrahim as Deputy Prime Minister. Media discussions on Anwar's sacking and the editors' resignation are restrained if not completely self-censored. The 'media clampdown' may not be new to foreign journalists who see their Malaysian counterparts as excessively intimidated by the government. Regardless, to Dr. Mahathir Mohamad, the foreign media are "a pack of liars" who have persistently portrayed his persona as an anti-Western authoritarian 'recalcitrant' and his government as repressively nationalistic. With the occassional factual and contextual errors committed by foreign journalists reporting on Malaysian affairs, Dr. Mahathir's could be excused for his snide retorts.

Forms of Self-Censorship
Malaysia's fragile inter-ethnic and religious sensitivities amidst current political and economic uncertainties plaguing the home front is cited to have vindicated the compliant nature of the local media. The modus operandi among Malaysian journalists is that they are there primarily to report essentially on 'safe' issues to avoid inciting racial strife or propagating salacious promiscuity. This underpins two forms of self-censorship in the Malaysian context - salient censorship in which information and images deemed offensive to public taste and morals are omitted; and proscribed censorship in which information that are not in line with governmental discourse is unthinkingly spiked.
Self-censorship has been practically built into the Malaysian media process through the lessons of history whereby bureaucrats have limited the diversity of public discourse either through the invocation of an array of media laws or, surreptitiously, through their close personal relationship with journalists. For many Malaysian journalists, the real threat does not come so much from professional sanctions but a learned cautiousness against sackings, unannounced arrests for any "mishandling" of information, or in some cases, expensive defamation actions. This learned apprehension is extended to the public where critical information on public issues are generally withheld from the media. Thus, what one reads in the Malaysian newspapers are a daily diet of general business news and light social features. Fundamental issues of environmental degradation, poverty, public corruption, public health, public accountability or migrant labour are largely ignored.

Malaysian Journalism
The functions of the media as explicitly delineated by the government are to: a) support national development; b) help explain public issues and policies to facilitate their implementation; c) exercise self-restraint and good sense so as not to cause misunderstanding or tension among racial and religious groups. The government's position is highly critical of the liberal press "watchdogging" attitude towards the government of the day. A Malaysian media academic once noted that the Malaysian media "watchdog" is "free to bark...so long as it knows its role, and does not bite too hard, it is allowed to roam around the compound of the house".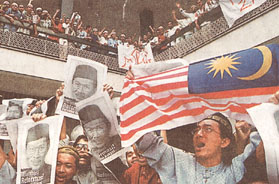 Though in face of numerous public protests, media discussions on Anwar's sacking are restrained in Malaysia.

While not disputing the market-oriented, altruistic values of Western journalism, Malaysian journalists, and not least their Southeast Asian peers, are seen to articulate their values through the government's broad definition of the media's role in fostering civic education and 'national development'. A working definition of Malaysian journalism can start at its variance from Western liberal tradition - that is, the former is guardedly contentious, constructively adversarial, and critically supportive. Journalism in Malaysia as qualified by Dr. Mahathir, should be constructive, consensual and development-oriented. Mahathir's perception obviously diverges from his once beloved deputy, Anwar Ibrahim.
Speaking to an assembly of the Confederation of ASEAN journalists in Kuala Lumpur on March 20, 1996, Anwar reminded journalists that they should serve as a "vehicle for the contest of ideas and cultivate good taste...Asian societies are at a state of development where they are in greater need for a vigorous journalism. We still have to root out corruption and abuses of power in its many forms". He has continued to covertly criticise the country's media laws and the nebulous notion of "Asian values" as an excuse for the government's limitations on press freedom.
In an interview with Time Australia (June 10, 1996), Anwar said: "I have a minority view (about press freedom) here (in Malaysia). My principle is an informed citizenry is a responsible citizenry. We want a responsible citizenry, so there must be respect for the freedom of the press...I reject the notion that a free press is alien to Asian society. All the great sages of the past were great because they were able to write and publish freely. All our great freedom fighters...were able to be great because they believed in freedom and they were able to use the media to articulate their positions." Malaysian media have steered far from being a "vehicle for the contest of ideas" judging from recent trends.

Media Control
Nevertheless, beyond the subtle controls inherent in the media production process, political and economic forces across cultural boundaries have their own ways of protecting themselves from negative depictions in the media. The business elite, the bureaucrat and the politician in any society will often try to dominate the media discourse to ensure their own legitimacy and public image. Journalists in any political system will try to work to appeal to their readers, their pay masters, and the authorities. While control and direction of media contents in the Western world are couched in more socially and politically acceptable terms, in Malaysia they are articulated more bluntly through the outright cancellation or withholding of publishing permits, and occasional detention of journalists when they pose a "threat to national security".
The forms of control of the media are basically defined by national, historical and cultural experiences; the level of public expectations, the ability of the media to fulfill these expectations; the leadership's perception of its own legitimacy; and the goals of the dominant ideology. Since becoming Prime Minister in July 1981, Mahathir has pinned his political leadership to an ideology of nationalistic social change - thus his "Malaysia 2020 Vision" which he has stated explicitly should be mobilised by the media.
Despite that government in Western democracy do not, under normal circumstances, overtly engage in directing and controlling media contents, as it is practised in Malaysia, the potentials and mechanisms for coercive measures have always existed. The emphasis in the West is on informal restraints and suggestions by appeals to altruistic values, or at the worst, through threats of expensive defamation suits, withholding of critical information, refusal to cooperate, and withdrawal of advertising and funding support. The difference is that political interference in media contents in the West are more understated than they are in Malaysia.

Professional Dilemma
Government and media, be they in the West or Malaysia, will not always see eye to eye on ethical and professional issues. By nature, democratically elected government expect public and media support for their policies. The press is often the willing critic. Whether democracy is better served by and adversarial press or a "consensual-driven" press is a matter of cultural perspective. What's relatively acceptable is the press should never have to be ritually adversarial nor should it be habitually cooperative, thus compliant as seen from the outside.
Relationship between the press and government is in constant flux. Paradoxically, this fluctuating relationship should be seen to be ambiguous to reflect its independence - sometimes contentious, sometimes supportive. As explained, relationship between the Malaysian media and government is prescribed in no uncertain terms that are borne from historical and political necessity. Discrepancies between the Malaysian journalists' ethical codes and their actual behaviour points to their professional dilemma in trying to fulfil their prescribed role within the constraints and context of a multi-racial society going through hard economic times; and holding their chin up to their Western counterparts where the freedom to report and hold the government to public accountability is sacrosanct.