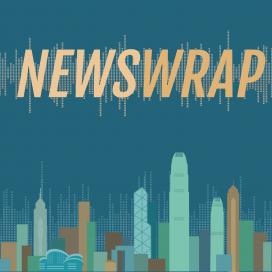 Newswrap
Description:
Our main evening newscast. Weekdays 18:00 - 19:00.
Presenter:
RTHK Newsroom
Now playing:
足本播放 Play full episode
Selected audio segments:
John Lee slams critics of an IPCC report
Listen
Security Secretary John Lee has dismissed criticism of an Independent Police Complaints Council report into the city's unrest, saying some of the accusations made against it were unfair and biased. He has urged the public to read through the watchdog's study to avoid being misled. The IPCC report has found no systemic problems with the conduct of the police over their handling of the anti-government protests, rejecting accusations of brutality and officers colluding with Yuen Long attackers on July the 21st. Jim Gould asked Amnesty International Hong Kong director Tam Man-kei what he made of the security minister's comments.
Taiwan rejects One Country, Two Systems as Tsai takes second term
Listen
Taiwan president Tsai Ing-wen has reiterated she will not accept the One Country, Two Systems arrangement for reunification - as she was inaugurated for a second term as the island's leader. In her inauguration speech, Ms Tsai said she would not accept Beijing's terms for reunification based on One Country Two Systems, as this would allow it to control and "downgrade" Taiwan. She said cross-straits relations have reached an "historical turning point", but insisted that she was determined to maintain the status quo. Annemarie Evans asked China analyst Mark O'Neill what he made of the inauguration.