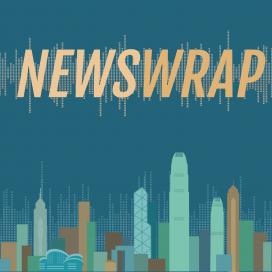 Newswrap
Description:
Our main evening newscast. Weekdays 18:00 - 19:00.
Presenter:
RTHK Newsroom
Now playing:
足本播放 Play full episode
Selected audio segments:
Tree safety under spotlight after three passers-by were hurt
Listen
Three passers-by have been hurt by falling tree branches in Ngau Chi Wan. The two men and one woman were sent for medical treatment. The incident put tree safety under the spotlight, as the rainy season approaches. Jim Gould asked Jim Chi-yung, research chair professor of Geography and Environmental Science of the Education University, what could have been the possible cause of the collapse.
German prosecutors 'assume' Madeleine McCann is dead
Listen
As we learned this week, Madeleine McCann, the British girl who disappeared in 2007 in Portugal is "assumed" to be dead, according to German prosecutors. A 43-year-old German man, who media are calling Christian B, but police and prosecutors have not revealed his name, is a suspect. He is serving a seven-year prison sentence for raping a 72-year-old widow in the Algarve region of Portugal, but he is also due for parole in the next few days. He is believed to have been in the area where Madeleine, aged three, was last seen while on holiday in Portugal. Annemarie Evans asked our UK correspondent Gavin Grey if the latest development was a major breakthrough.