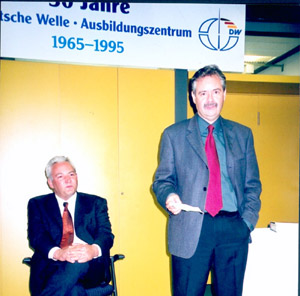 RTHK News Editior Nick Beacroft (standing) attended Radio Training Course offered by Deutsch Welle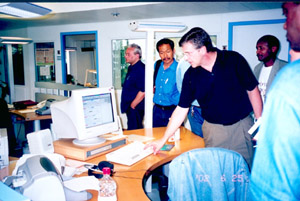 Course attendents visited Munich's radio news provider.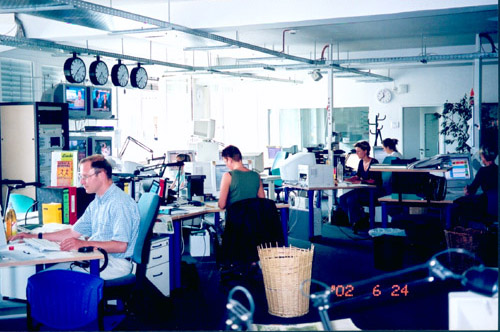 Bavaria's top all news 24-hour station.
If radio is going to suceed against the twin competition of television and the internet, then those who run the stations, the managers, must be aware and able to handle the most modern management techniques. This is why I was sent by the RTHK senior management to Cologne in Germany during the month of June. The four-week course was held at the Deutsch Welle(DW)Radio Training Centre.
To Equip Radio Managers
The course was attended by thirteen seasoned broadcasters and managers from Asia and Africa. It was designed to equip us with the ability to respond to and anticipate the chances and challenges, options and opportunities that face radio managers today.
During the workshops and seminars we attended, we were provided with new ideas and insights into modern management strategies in broadcasting, to enable us to cope with the challenges ahead. Various programme concepts and new trends in radio broadcasting were also a feature of the course.
We spent a great deal of time on managerial decision-making and problem solving, together with discussions of new communication technology, marketing ideas and financial concepts. As part of the course we also attended a four-day Confident Presentation Course.
Station Visits
Although most of the time was spent at the DW Radio Training Centre in Cologne, we did travel to Munich where we visited a radio news provider, as well as Bavaria\'s top all news 24-hour station.
This station showed how, by recruitment of well trained professionals, you can provide 24-hour news with accuracy and reliability which is respected by the audience. It was obvious you did not need a huge space to provide such a service, but you did need a highly qualified staff and the technology to support them.
Radio Management
But let\'s start at the beginning when we had to analyse our stations\' strengths, weaknesses, opportunities and threats. This gave all of us an opportunity to work within small groups and look within our organisations, and explain to all the participants in a question and answer format exactly where we\'d gone wrong in the past and how we saw our future.
In connection with this, we then discussed programme analysis, including methods and procedures. Within the whole area of radio programming, it was felt vital to discuss format radio, the need to relaunch programmes, or to only fine tune the exisiting output as well as music planning.
When it came to the core area of the course - radio management - we first discussed self-management, the setting of goals and priorities.
It was felt that to be effective, managers must always first set achievable goals, then decide how these goals are going to be achieved, and then always follow-up to make sure the goals have actually been achieved. This also calls for a good communication system within the organisation and the development of man-management skills.
Time management
One area of great importance was the management of time and the need not to abuse time. This means not wasting managers and employees time with over-staffed meeting with few aims or goals. No meeting should have more than five or six people and should not last for more than fifteen minutes. Each person attending the meeting should know what the goals and aims are, and should have prepared a one-minute presentation.
This brings us to another essential area of management and this is leadership. We discussed the qualities of a good leader which included strength, foresight and most of all, the ability to criticise in an effort to strengthen your editorial team. Within this discussion on leadership, we also looked at ways to inspire effective team building, coping with discords and friction, and negotiating with staff members.
Recruitment and Training
There were so many important aspects of radio management discussed in-depth during the four weeks that it is hard to prioritise. But I feel that I came away with the need to plan, set goals, never do anything without a goal being set and then achieve those goals. And this is through intelligent recruitment and training.
Recruitment meant that radio stations should recruit people who could do the job and if they couldn\'t, then the stations should be able to train them. Knee-jerk reaction to situations is wrong. Training is all important.
Good Leadership
Motivation, leadership and mangership were the three skills discussed. How to motivate your work staff. One essential point driven home was communication with one\'s staff. Do not stay in your office. Keep your door open and do talk to your staff. If your staff have an inquiry, make sure you respond to it within 24 hours, less than this will mean that you don\'t care about their problems.
Leadership was an area where we discussed how to be a team leader. Again it was a group activity where we had to identify the areas in our stations where there were weaknesses and strengths.
A strong leader was someone who could bring strength to the group, as well as understand their problems. When it came to managership, it was a question of being able to mix the demands of the staff and conducting the business of the station where you worked.
Also, being a manager meant that you would be able to be criticised. Interestingly enough, the course member from China, the head of news editing at China Radio International in Beijing, said that staff reported on their seniors. Then their senior staff would have to answer their views. This accountabilty by senior staff was applauded by not only the group members but by the course lecturers.
Take On New Thinking
This course was an invaluable opportunity to bring oneself up to date with modern management techniques.
Probably the most important areas which need indepth study are motivation and leadership if we are going to suceed in this new broadcasting era. There\'s a need within RTHK to take on a new thinking when it comes to moulding an updated RTHK newsroom. The DW course would bring us all up to date with the latest thinking in these areas.